Magazine Street Guide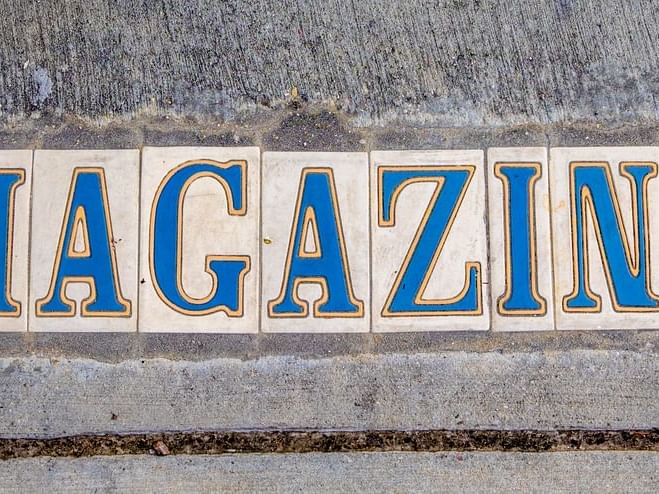 World-famous Magazine Street is a magical place home to countless restaurants, shops, art galleries, museums, bars, and boutiques.
Stretching an astounding six miles long as it winds through the city, Magazine Street is a destination unto itself. You can easily spend a day (or days) traversing this amazing thoroughfare and still barely make a dent in seeing everything it has to offer. Luckily, we've put together a comprehensive Magazine Street itinerary as a handy guide to some of the street's best bars, boutiques, restaurants, art galleries and more, so you can spend less time looking up places to visit and more time enjoying the endlessly fun Magazine Street!
New Orleans Coffee
DeVille Coffee House & Crêperie
DeVille is a great little coffee house and creperie tucked away in a shaded and shop-packed part of Magazine Street in the Lower Garden District. From tasty coffee to inventive (and delicious) crepes, DeVille is a great place to stop to eat a quick snack or even have breakfast.
French Truck Coffee
Easily recognizable from the street by the unmistakable little French trucks parked outside and yellow building, French Truck Coffee is a coffee lovers dream. This popular destination uses only the best beans available for fantastic fresh roasted, small-batch coffee. It's perfect for a morning cup or an afternoon pick me up. French Truck has multiple locations throughout the city if you happen to venture away from Magazine Street.
HEY! Café & Coffee Roastery
As New Orleans' premier in-house shop roaster, HEY! Cafe sells delicious brews in a hopping hipster ambiance. Run by self-proclaimed "coffee geeks" who truly care about the quality of their product and their cafe, HEY! is an awesome place to get a delicious cup in the Uptown neighborhood of New Orleans.
New Orleans Food
As a culinary city full of some of the best food in the world, it can be hard to narrow down all the choices available as you travel across the Crescent City. Our Magazine Street guide offers visitors a boundless list of restaurants that are perfect for casual or formal dining. From po'boys to seafood, you'll find it all right here on Magazine Street.
Bittersweet Confections
Have a sweet tooth? Bittersweet Confections is the place to go if you're looking for something sweet and delicious. Located in the Warehouse District, travelers can enjoy an extensive selection of fine chocolates, custom cakes, pastries, cupcakes, and espresso at this scrumptious sweet shop. Each artisan confection is handcrafted, using only the finest Swiss chocolate, farm-fresh dairy, and other natural ingredients for a one of a kind confectionery taste that will satisfy any sweet tooth.
Fat Boy Pantry
This restaurant with a unique name offers an equally unique and creative menu, with items including a lobster po'boy, fresh-cut French fries and homemade ice that is made fresh daily. Look for the artsy old truck parked permanently outside and you'll know you're in the right place.
Another Broken Egg Cafe
This local favorite is a great place to eat, especially for breakfast. With delicious, home-cooked food served NOLA style, you can't go wrong with a stop here to recharge your batteries as you make your way down miles-long Magazine.
District Donuts & Coffee Bar
Perfect for when you're craving something sweet and delicious on your march down Magazine Street, District Donuts is an extremely popular gourmet donut shop specializing in mouth-watering, one-of-a-kind donuts like "Milk & Cookies" and "Bacon Maple Glaze" that will make you never look at donuts the same way again! They also have a variety of delicious kolaches, sliders, sandwiches, and coffees. There are actually two District Donuts on Magazine Street—one Uptown and one in the Lower Garden District.
Stein's Market and Deli
With New York deli sandwiches and an NYC attitude to match, you might just think you're up North when you enter this NOLA-based bodega. Stein's offers a variety of sandwiches familiar to those on the East Coast, along with some spins on local favorites like their Philly-style muffuletta!
Dat Dog
Hot dogs are a familiar favorite to folks across the country, but when you're down in New Orleans, even this simple American classic comes with a special New Orleans twist!
That's just what you find at Dat Dog on Magazine Street. A local hot dog purveyor with several locations across New Orleans, Dat Dog serves up some mean hot dogs that can only be found in the Big Easy.
Stand-out hot dogs include the Crawfish Etouffee dog, topped with the Cajun crustacean classic; the Son of a Saint, complete with alligator sausage, bacon, and Creole mustard; and a variety of others, including duck and crawfish sausages. You're practically in hot dog heaven at this one-of-a-kind New Orleans delight!
Joey K's
This Garden District restaurant has delighted locals and tourists for more than 40 years with its simple, delicious menu of home-cooked eats at prices that can't be beat.
From massive plates of fried seafood, such as shrimp and oysters, to tender, melt-in-your-mouth roast beef po'boys to homemade chicken fried steak, Joey K's is the place to go when you want a taste of home as you make your way across the Crescent City.
Juan's Flying Burrito
Whenever you find yourself on Magazine Street with a hankering for Mexican food, head on over to Juan's Flying Burrito. This funky local eatery serves up massive plates of Mexican favorites with a local Louisiana spin, such as behemoth burritos stuffed with Gulf shrimp (along with steak and chicken for good measure), 504 nachos with seafood, and more.
Pho Noi Viet
New Orleans is well-known around the world for its homegrown, delicious Creole cuisine. But few people know that, among all the cultural influences of this Southern melting pot, we also have some unique contributions from a large population of Vietnamese residents.
This immense influence also shows up in the food, with some excellent Vietnamese food (with the requisite NOLA twist) being found all across the city. Magazine Street's own Pho Noi Viet is no exception, offering up flavorful pho and scrumptious spring rolls to residents and visitors in the Lower Garden District.
New Orleans Bars
In a city well known for its drinking culture, there is never a shortage of great places to wet your whistle. Magazine Street takes "laissez les bon temps roulez" to a whole other level with its astounding array of bars and pubs, from neighborhood dive bars to classy cocktail bars and everything in between!
Tracey's
Not for the faint of heart, this neighborhood watering hole is a down and dirty dive bar located in the Garden District. With TVs throughout, it's great for watching the big game, as well as doing some great people watching. And it's dog-friendly!
The Tasting Room
Perfect for those seeking a more upscale drinking experience, The Tasting Room is a refined and sophisticated wine bar located in the Lower Garden District, just a few minutes from Downtown. The Tasting Room comes with trendy decor and serves top-shelf bottles of wine and interesting, inventive bar bites.
The Bulldog, Uptown
With its massive, dog-friendly outdoor patio and a great selection of beers, Uptown's own The Bulldog is a great place to kick back and relax with friends while enjoying all the sights and sounds of Magazine Street. With its famous beer tap fountain, you can enjoy any of the 48 fine draft beers (mostly craft and local) always available on tap or choose from 100+ bottled beers along with a full selection of cocktails and award-winning pub fare for a one of a kind New Orleans bar experience! The Bulldog also boasts another location in Mid-City New Orleans, near City Park for those traveling in that part of town.
Bouligny Tavern
Primarily a wine bar with premium cocktails, fine dining quality small plates, and table service, this is a traditional bar that looks like an old New Orleans house from the outside. Upon entering, you are immediately transported to times long since passed. With its vintage furniture and classic ambiance, Bouligny Tavern is a true step back in time and is quite the experience.
Barrel Proof
Barrel Proof embraces classic and traditional drinking, with a belief in great spirits, shared among friends and neighbors. This world-class bar located in the Lower Garden District offers an astounding variety, with over 300 whiskeys and 50 craft beers from across the U.S. and around the world. With so many choices always on hand, you can't go wrong with a pit stop at one of Magazine Street's classiest drinking establishments.
Balcony Bar & Cafe
While it has good drinks and some surprisingly good pizza, the main reason to visit this bar is for the view. As its name suggests, Balcony Bar features a second-story balcony that allows you to see all the action on the street below from an amazing birds-eye view while enjoying drinks with friends and family.
New Orleans Boutiques
Magazine Street is a boutique shop paradise! With dozens of small shops lining this long street, the options are nearly endless and there are stores to suit every interest. The shops listed in our Magazine Street itinerary represent just a tiny taste of the endless shopping choices available to visitors of the world-famous road.
The Shops At 2011
This vast antique marketplace offers a unique array of antiques, art, gift items, and home decor. As their website states, "Expect the unexpected" at this massive market full of artists. Located in the Lower Garden District, it's just steps away from the many bars and restaurants available on Magazine Street.
Goorin Bros. Hat Shop
Make a statement without saying a word with one of the many awesome hats available at this 100-year-old hat shop on Magazine Street. Specializing in hats for every season and style, Goorin Bros. is the perfect place to try out a new look or find the perfect gift while strolling down this historic street.
Magazine Antique Mall
Featuring about a dozen vendors, this antique mall packs a ton of antiques (and history) into a pretty small place. With its eclectic array of one-of-a-kind antiques, you can be transported back in time and experience the whole history of New Orleans at this one antique mall!
Funky Monkey
Specializing in vintage clothing and accessories, contemporary trends, and costumes, this funky little clothing store located on a bustling part of the Garden District is your one-stop-shop for cool and unique clothing to embrace your inner hippy! The store features a revolving selection of vintage clothes from the 1920s to the 1980s, so you're bound to find something to love at this funky vintage paradise!
Derby Pottery and Tile
For a little break from your typical tourist gift shop, choose the best Victorian tile reproductions available anywhere at Derby Pottery and Tile. A full-blown artisan studio, Derby sells a variety of handmade pottery and tiles that would make a great keepsake from your visit to New Orleans, Grab a New Orleans style street tile and have a lifelong Magazine Street memento to bring back home with you!
Bootsy's FunRock'n
Unique among all the shops on Magazine, FunRock'N is like a better, local version of Spencer's, with an array of gag gifts and other fun stuff that will keep you laughing long after you buy them.
The Bead Shop
Featuring way more than Mardi Gras beads, The Bead Shop offers jewelry-making supplies and unique, handcrafted beads, including glass, sterling, ethnic & seed, plus classes and parties all at what it describes as a "sweet-little-happy-amazing-wonderful-fun-sparkly full-service Bead Shop."
Kawaii NOLA
Looking for some unique purchases while shopping on Magazine Street? Kawaii NOLA is just the place, with Asian-style accessories, costumes, and gifts as well as workshops to foster the inner artist in you.
New Orleans Museums and Art Galleries
New Orleans has always been a haven for artists, with a welcoming embrace of people's creative talents and a booming, well-developed local art scene. Magazine Street represents the best of this considerable cultivation of artistic creativity at its very best, with countless world-class art studios (and a museum) all located along this one (very long) street.
Studio Amanda Talley
Studio Amanda Talley is a gallery and showroom offering original art, fashion, fabric, and wallpaper by acclaimed New Orleans-based artist Amanda Talley. Talley's work is revered not only citywide but around the country as a true NOLA experience and a wonderland of art and artistry.
Rhino Gallery
This art market is a nonprofit cooperative of Louisiana artists showcasing handmade crafts in an intimate space. Volunteer artists continue to fulfill the market's nonprofit mission, conducting working crafts demonstrations and sponsoring public craft exhibits. Artists are at the gallery every day to provide visitors with information, a local perspective, and to offer some of Louisiana's finest crafts.
Ashley Longshore Studio Gallery
With its fresh perspective on pop culture, this witty gallery is a great place to witness the creativity and viewpoints of some of New Orleans' best artists. Prepared to be both amazed and inspired at this fabulous fine art gallery in the Irish Channel neighborhood, with a variety of art that is simultaneously fun, energetic, and endlessly sassy!
The National WWII Museum
As one of the most visited museums in the world, the WWII Museum is not exactly a locally-kept secret. Filled to the ceiling with interactive and historical displays, rare and real planes and equipment from the war, and unforgettable activities, the World War II Museum is the place to be for any history buff. Bring the little ones for a day filled with history in an unmatched tribute to America's sacrifice during the war.
H. Rault
Family-owned since 1845, this locksmith shop is like a step back in time, featuring not only throwback, old world-style locks and keys but also the entire history of their long existence postered all across this one-of-a-kind store. Enjoy marveling at the history and culture of both the city of New Orleans and historic Magazine Street at this living museum.
Enjoy Momentous, Magnificent Magazine Street Today
We hope this guide serves you well as you discover one of New Orleans' greatest treasures one step, sip, or bite at a time. With so much to see and do, Magazine Street is practically a vacation destination unto itself, but you can easily make this Magazine Street itinerary into a single day full of history, drinks, food, and fun for an unforgettable and delightful stroll down New Orleans' very own main street.