Breakfast Spots in New Orleans for Early Risers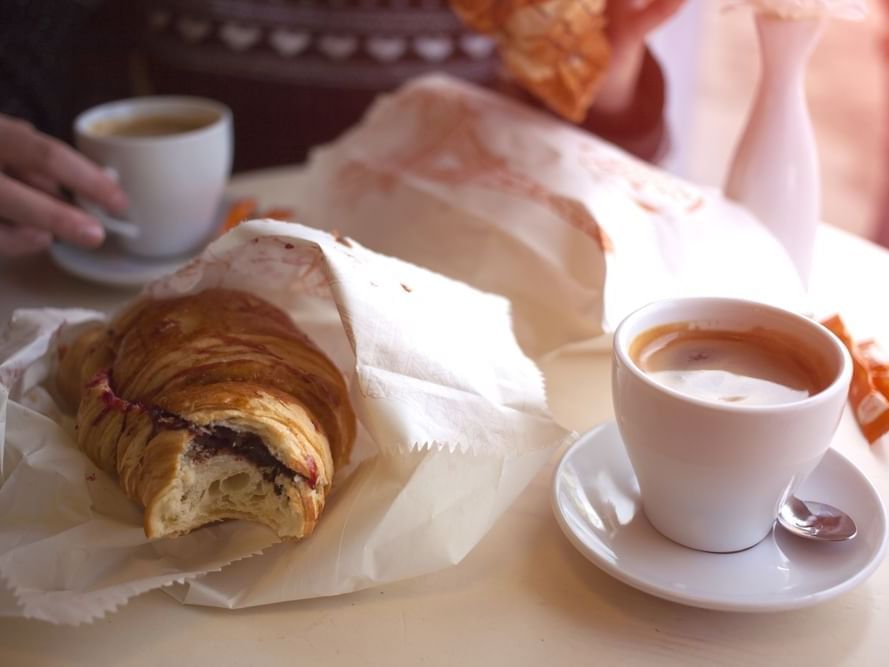 Are you an early riser? Don't delay the most important meal of the day! While there are diners open 24/7 across the French Quarter, let's suppose you want a breakfast meal that starts with a clean slate. Check out these breakfast spots around the French Quarter during your stay at Hotel St. Pierre, open especially for the early birds.
We include this breakfast corner cafe because the early bird special applies to those who arrive before 10 am! Perfect for the early riser. The food at Who Dat Coffee also happens to be stellar - enjoy quiche, cajun scrambles, corn cakes and a hot cup of coffee or espresso, all prepared with care. Opens at 7 am. 2401 Burgundy St., Faubourg Marigny
Serving breakfast all day every day, Belle's Diner is for both early or late risers. The retro, '50s-era diner is located right across the French Market. It serves all the American breakfast favorites, including a house-cured corned beef hash that is an experience in itself. Belle's opens 7 am weekdays and is open 24 hours on the weekend. 1122 Decatur St., French Quarter
Stanley Restaurant serves Louisiana breakfast fare with a modern twist located right in Jackson Square (just steps from Hotel St. Pierre). Stanley's breakfast fare is as pretty as it is tasty, complete with cornmeal-crusted oysters, surprisingly large mimosas and killer eggs benedict. It opens bright and early at 7 am – watch Jackson Square wake up while tucked away in this neat little restaurant.
The Ruby Slipper is a breakfast favorite in the Big Easy, with pancake flight options (you read right) and a delightful selection of eggs benedict. There's typically a line at Ruby's because of its consistent fare and warm atmosphere – but at 7 am, you shouldn't expect a long wait time. Open 7 am every day. 1005 Canal St., French Quarter
If 7 am isn't early enough for you, Clover Grill is a 24/7 mainstay in the Quarter that often welcomes the (very) early breakfast crowd. This tiny diner is a cute place on Bourbon Street, perfect for people watching and enjoying breakfast fare or a classic hamburger. Whatever the hour, Clover Grill will be open. 900 Bourbon St., French Quarter
--
Booking your stay in The Big Easy? Check out our affordable, colonial Hotel St. Pierre, located right in the French Quarter.