New Orleans Crawfish Season Guide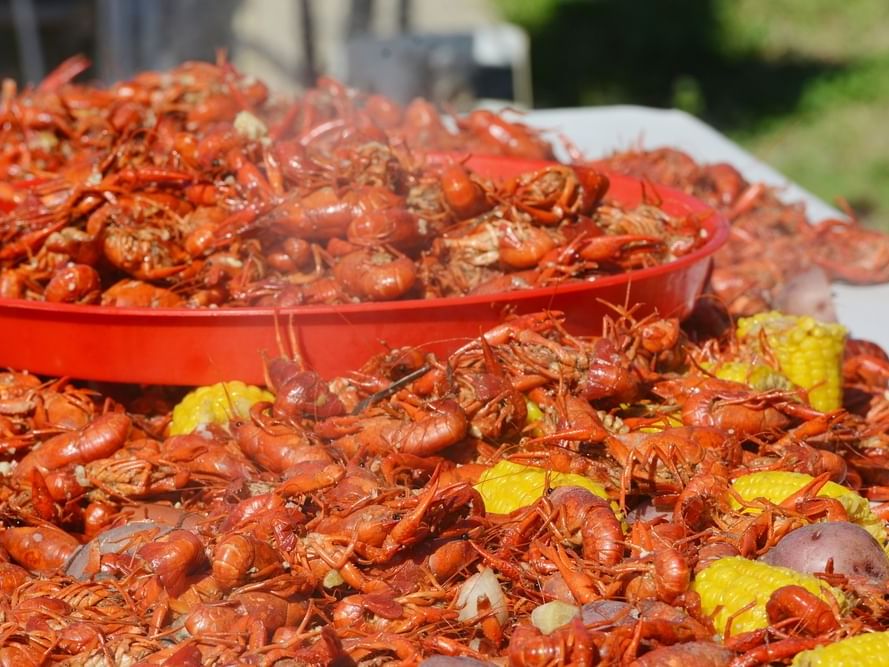 Next to Mardi Gras season, crawfish season may be the time of year New Orleanians look forward to most. Our love of crawfish borders on obsession! These tasty crustaceans go by many names, including crayfish, crawdads, mudbugs, and more. During crawfish season, crawfish boils become a social and culinary priority among locals and a favorite dining experience for visitors. If you plan on visiting during the New Orleans crawfish season, come prepared with our New Orleans Crawfish Season Guide. We've covered the basics for first-timers and given our top recommendations for repeat travelers looking to expand their crawfish palates. If you miss the season, don't worry: we'll also tell you where to find cooked crawfish at the best crawfish restaurants in New Orleans when boiled crawfish is no longer an option.
When Is Crawfish Season in New Orleans?
If you're visiting from out of state, you may find yourself asking, "When is crawfish season in New Orleans?" The exact months of crawfish season are heavily influenced by several environmental factors in Louisiana, meaning the dates can change from year to year. When the weather is warmer and our state gets plenty of rain, the New Orleans crawfish season can begin as early as November and last all the way to July. However, cooler and drier years often lead to shorter crawfish seasons, which might last from early March through early June. The availability of crawfish in a particular year also affects the length of the season.
It's also important to note that you can still eat crawfish even if you visit New Orleans outside our crawfish season. Boiled crawfish are prepared by heating live crawfish in a pot with water, seasonings, and vegetables during crawfish season when live crawfish are readily available. Cooked crawfish, however, can be prepared all year long. Many restaurants switch to cooked crawfish at the end of the season. You can find this scrumptious seafood prepared in everything from pasta dishes to soups, sushi rolls, and more. Skip ahead to our Best Crawfish Restaurants in New Orleans section for recommendations!
How Do You Eat Boiled Crawfish?
If you've never had boiled crawfish before, it can be a little intimidating at first. Locals have had years of practice, and their fingers flash by so fast it can be hard to tell what they're doing. But with some simple instructions and practice, you'll have no problem peeling your own crawfish. Once you get the hang of it, these clawed crustaceans are very easy to peel.
There are several different methods for peeling crawfish. To start, we recommend holding the tail with one hand and the head with the other. Firmly grasp the head, twist it, and carefully pull the tail away. Suck the seasoned water from the head if you want a little extra spice! Then take the tail and peel off the first two or three rings of its shell. Pinch the end of the tail, pull the tail meat out, and enjoy.
Don't forget to nibble away at the other yummy fixin's that might also be in the boil. Most crawfish boils contain at least corn and potatoes, and many also include smoked sausage, onions, mushrooms, celery, or garlic. There are plenty of creative options out there, from pineapple to cauliflower and everything in between! These fruits, veggies, and meats absorb the flavor of the boil, so be careful—they may be spicy.
What Are the Best Crawfish Restaurants in New Orleans?
There is an endless amount of Cajun seafood restaurants in New Orleans that serve crawfish, both boiled and cooked. We highly recommend trying boiled crawfish if you can get it! Similar to fondue, boiled crawfish is an experience: it takes time to eat, which means lots of socializing with your friends and family in between bites.
Aside from its taste, one of the best things about boiled crawfish is how inexpensive it can be. The price will depend on the availability of live crawfish, but most locals consider $4/lb a good price when ordering boiled crawfish from bars or restaurants. A good rule of thumb is to get 3 lbs per person (plus any desired fixin's). This makes it an excellent option for visitors on a budget.
If you're looking for crawfish boil restaurants, our top recommendations are Big Fisherman Seafood on Magazine Street, Bevi Seafood Co. in Mid-City on Carrollton Avenue, and Cajun Seafood, which is so good it has four locations for you to choose from. These spots serve some of the best crawfish in New Orleans. Even better, each of these three seafood spots are within a three-mile radius of La Galerie Hotel, so feel free to walk, drive, or even take the streetcar. You can also find boiled crawfish served at a variety of bars in the French Quarter, such as Three Legged Dog on Burgundy Street, which is just half a mile from La Galerie
If it's past crawfish season or you simply aren't ready to get your hands dirty, stop by almost any restaurant that serves seafood and you'll find a crawfish dish on the menu. We recommend crawfish bisque, crawfish etouffee, and crawfish Monica if you're looking for traditional crawfish dishes, but there are plenty of unique crawfish offerings as well. Head to The Bon Ton Café just four blocks from La Galerie to try the classics, from crawfish etouffee to crawfish bisque and crawfish jambalaya. If you're looking for innovation, try the crawfish and goat cheese crepes or the crawfish hash for brunch at Tujague's, the second oldest restaurant in New Orleans, which is only a half-mile from La Galerie.
Final New Orleans Crawfish Season Tips
Peeling boiled crawfish means getting your hands a little bit messy. Avoid scheduling a nail appointment right before your boil, because you'll want those hands to be ready to peel. Since crawfish are also a bit juicy, be smart about your outfit choices as well. The point is to eat your fish, not wear it. This means that white t-shirts are a definite no-go. Consider wearing a romper, shorts and a tank, or a sundress instead. Also, make sure you've got a little time to clean up after your first boil before heading somewhere nice.
With this New Orleans Crawfish Season Guide, you can make the most of crawfish season in New Orleans!.