A Taste of NOLA: The Praline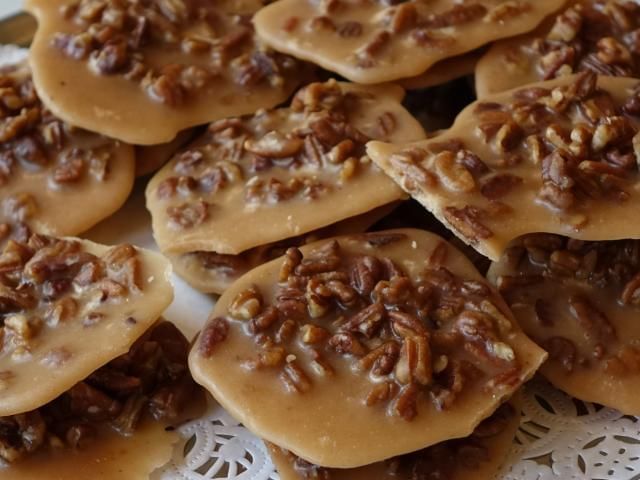 A Taste of NOLA: The Praline
New Orleans features a unique flavor and sense of style like no other city you can imagine. Part of what makes the Big Easy so special is its incomparable cuisine. Whether you're indulging in a bowl of jambalaya or gumbo or a fresh seafood platter, you're sure to find yourself wanting more. Therefore, when the main course is over, you're more than happy to reach for the dessert menu. New Orleans is full of all sorts of sweet treats, like beignets, Doberge cake, bananas foster, and a tasty little morsel called the praline.
Here's a closer look at this sweet, nutty, southern favorite.
Origins of the Praline
The original praline was quite a bit different from the popular New Orleans praline you see today, with roots going back to the mid-1700s in France. Initially, a chef named Clement Lassagne created the delectable treat for sugar industrialist, Marèchal du Plessis-Praslin. The sweet consisted of sugar-coated almonds, given as gifts to ladies visiting the Château de Vaux-le-Vic.
The story goes that Lassagne sold the recipe after he retired. French settlers brought the recipe with them when they came to America, but almond trees were hard to come by. Therefore, settlers decided to use the more abundant pecan. Also, they used more accessible ingredients like brown sugar instead of white and added cream, creating the southern confection that exists today.
How Do You Make Pralines?
Typically, you make pralines with lots of sugar, butter, some cream, and tasty, toasted pecans. The recipe can take some practice, and for many, it's all in the timing. But, if you want to tackle this sweet treat without too much fuss, check out this recipe that lets you whip up a batch of sweet pralines in the microwave.
Ingredients
¾ cup of buttermilk
2 cups of sugar
2 cups of pecan halves
2 tablespoons of butter
⅛ teaspoon of salt
1 teaspoon of Arm & Hammer baking soda
Instructions
In a large, microwave-safe bowl (glass is best), stir together everything except for the baking soda. Cook on HIGH for 12 minutes, making sure to stir the mixture at 4-minute intervals.
Then, stir in the baking soda until the mixture gets foamy. Cook on HIGH for one minute. Beat the mixture until it's tacky, about three minutes or so. Finally, drop by tablespoon onto a large sheet of foil and let harden and cool.
Note: It might take a few attempts until you get it just right since microwave oven temperatures and settings vary. Once you get the hang of how your microwave does it (you might need to adjust the times a bit), you should be well on your way to making some fast and delicious pralines.
Where to Find the Best Pralines in New Orleans
If you'd prefer to skip the work and just shop for some of the best pralines around, you can find some great ones at Aunt Sally's Praline Shop or Southern Candymakers on Decatur, or check out Leah's Pralines on St. Louis Street and Laura's Candies on Chartres. You can also snag some delectable pralines in the French Market at Loretta's Authentic Pralines.

No matter how or where you decide to satisfy your praline craving, make sure to bring some treats back with you to the Hotel St. Pierre. Enjoying some authentic NOLA goodies while relaxing in your cozy hotel room is sure to make your stay extra sweet.