Burgundy Street: A Storied Past and a Neighborhood Vibe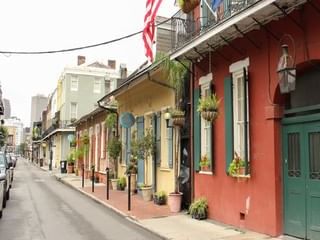 This street is loaded with down-home essentials that give the Quarter its neighborhood feel and add to its livability.
Whether you're a local enjoying a staycation, or a tourist exploring the Big Easy for the first or fourth time, staying on one of the French Quarter's most famous streets makes you feel like you're right at home. Bourbon Street is known for the bars, Royal Street is known for its art galleries and eclectic shops, and Burgundy Street offers up local fare and casual hang-outs.
A Street By Another Name
But, Burgundy Street wasn't always known by its current name. Most of the streets in the area that extend into the Faubourg Marigny neighborhood, just downriver from the French Quarter, share a history with a man by the name of Bernard de Marigny. A member of a wealthy Creole family, Marigny spent most of his time gambling his money, losing much of it on his favorite game, Craps.
Unfortunately, Marigny lost so much of his money he was forced to sell the family plantation. The land was subdivided into tiny plots, giving Marigny the opportunity to bestow some fun street names on many of the newly created avenues. He named one such street Rue de Craps in honor of his favorite game.
The street, along with many others, was renamed in 1850, and Rue de Craps became Burgundy Street (named after the Duke of Burgundy). Today, this street possesses a strong local flavor, spotted with many parks, hang-outs, bars, and more.
Check Out Burgundy Street
If you want to live as the locals do, you're staying on the perfect street! Check out some of these neighborhood favorites (a little something for everyone) while you're staying with us at the Hotel St. Pierre, after all, they're just right down the street! (With current guidelines and businesses in flux due to the pandemic, it's recommended that you give places a call before stopping in to check on their current status, rules, and regulations).
Fahy's Irish Pub -- 540 Burgundy St. -- This friendly, unassuming neighborhood pub is the perfect place to kick back and relax while you enjoy a slower pace. Sip on a pint, play some pool, or try your hand at a game of darts while you sample an array of beers on tap. This chill dive bar has a big local following but makes everyone feel welcome with its friendly bartenders, fun atmosphere, and unbeatable prices.
Cabrini Playground -- The Corner of Burgundy St. and Barracks St. -- If you're traveling with kids, it's always nice to have a nearby place where they can blow off some steam! This fenced park features a picnic area, grassy expanse to run around and toss a frisbee, or a playground where kids can slide and climb to their heart's content. The official address is 1219 Dauphine Street, but the park stretches from Dauphine to Burgundy, running alongside Barracks St.
Quarter Grocery -- 836 Burgundy St. -- If you're looking for a quick bite, snacks, or drinks to bring back to your hotel, this local market is right on the corner! In no time you can have some amazing gumbo or a fresh po'boy to-go! This delicatessen also offers alcoholic beverages and grocery staples. If you want to know-before-you-go, give them a call at (504) 529-2702.
Rawhide2010 -- 740 Burgundy St. -- Since 1988, this Levi & Leather gay bar has been a fun, casual place for guys to meet, let loose, and live life to the fullest. The bar was completely renovated in 1995, and hosts weekly pool tournaments, karaoke nights, and daily happy hours. It usually opens up in the afternoon, and you can snag some amazing Bloody Marys. Plus, this place makes everyone feel welcome with their down-to-earth approach, excellent drinks, and a laid-back atmosphere.
In addition to these local favorites, you'll also see a collection of residences that showcase French Quarter architecture and style. If you're looking for a more authentic, laid-back NOLA visit, it's right on the "street where you live," when you stay at the Hotel St. Pierre.