Feeling Thirsty? Check Out These Five NOLA Breweries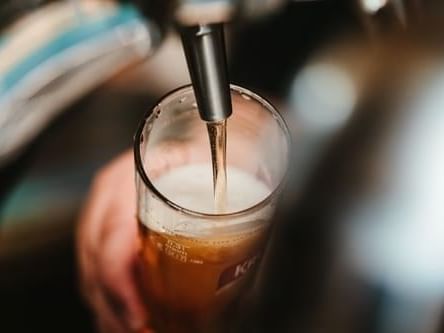 These brewhouses make sure you can always wet your whistle by implementing pre-order and curbside pick-up services so you can grab your beer to-go.
Not sure where to go first? With so many choices, it's understandable if you're a bit undecided. Start your curbside tour of NOLA's breweries at these five fabulous favorites:
Dixie Brewery -- Home of Dixie Beer, this regional brewhouse is the oldest brewery in New Orleans, and it's about to undergo a name change. However, no matter what new moniker this local legend adopts, it's sure to still be one of the city's most beloved brewhouses. Dixie Brewery was founded in 1907 and is currently owned by Gayle Benson, owner of the New Orleans Saints and Pelicans franchises.
Dixie uses a unique brewing technique to develop complex flavors and a refreshing taste. Dixie is brewed with New Orleans cuisine in mind, making the perfect pairing for authentic Cajun and Creole fare. Currently, guests can get their beer to-go curbside, Sundays through Thursdays, from 11 AM to 6 PM.
Brieux Carré Brewing Company -- This funky brewery is a hop, skip, and a jump from the historic French Quarter. It features various beers on tap to cater to its guests' diverse tastes and likes to push the envelope with fun, quirky recipes featuring creative flair.
Brieux Carré strives to create new and exciting recipes each week, so you're sure to always experience something new! You can currently pre-order beer and merchandise like glasses, T-shirts, and gift cards for curbside pick-up through the brewery's website.
Courtyard Brewery -- This laid-back brewery gives you the feeling like you're hanging out with buddies in your friend's garage. Although the location is currently closed to visitors, you can order to-go orders online and pick up your beer and other merchandise like glassware, stickers, and T-shirts curbside. You'll get a taste of such creative concoctions like the All Sales Final Fruited Sour, Peanut Butter Stout, and Black Is Beautiful Imperial Stout.
Urban South Brewery -- This brewery was formed because of its founder, Jacob Landry's experience with European beer-making. He realized that there was a vast difference between these incredible, rich flavors and the mass-market beers he was used to at home in South Louisiana. He decided to create a venture that would marry the art of European beer making with the grit of the South, resulting in world-class beer designed to foster a sense of fellowship with all who taste it. You can try this fabulous beer by ordering online or placing a to-go order. The brewery offers a 4-day pick-up window, so there's no need to rush once you place your order.
NOLA Brewing -- Tangerine Squeezcicle, Drop Tha' Beet, and Darkest Before Dawn are just the tip of the iceberg when it comes to this local brewery's creative flavors. Order beer and merchandise online for curbside pick-up. You can find fun clothing, glassware, koozies, and even dog collars and leashes sporting the NOLA Brewing Co. brand. The brewery also stepped up during the COVID-19 pandemic and started manufacturing its own hand sanitizer, so be sure to add a bottle or two to your order!
If you're feeling thirsty, start sampling some of the top-notch flavors from these NOLA breweries and pick your favorites! You'll be a step ahead once the taprooms open and call your name! Cheers!