Unique Gorgeous New Orleans Cemeteries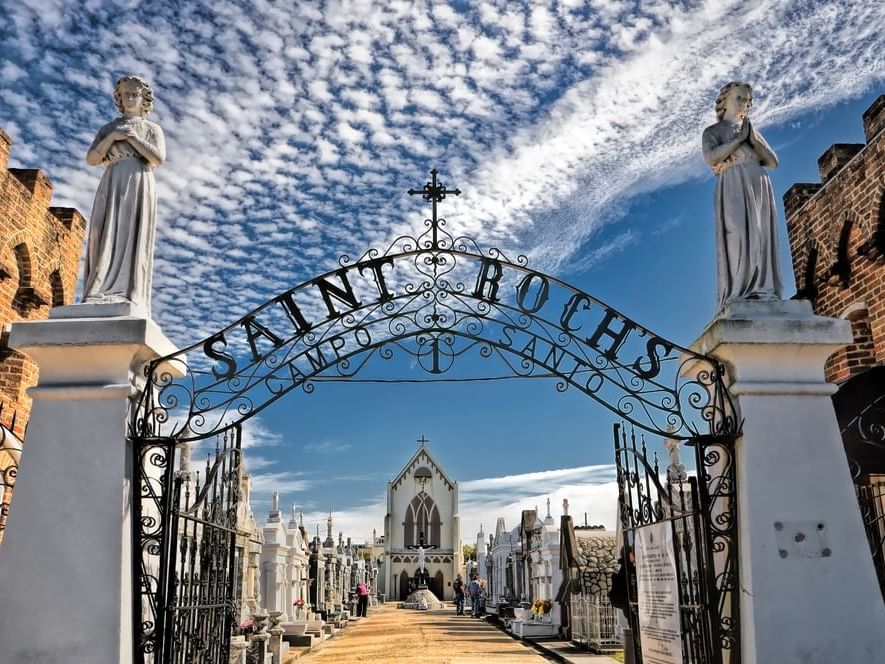 New Orleans is recognized for its ornate and historic cemeteries that show the mark of time. Because the city was built on swamplands, above-ground crypts were established to house the dead. Today, its cemeteries are visited by tourists around the world, as well as locals paying respects to their dearly departed. Here's a list of 5 unique and beautiful cemeteries to check out during your stay in New Orleans.
ST. LOUIS CEMETERY NO. 1
This is the oldest cemetery in New Orleans and the most-visited for its 18th and 19th-century vaults. It's famous for containing what many believe is the grave of Voodoo High Priestess Marie Laveau, complete with all sorts of offerings left behind by visitors. The cemetery was also featured in the famous 1969 American film, Easy Rider. This is just a mile from Andrew Jackson Hotel. Walk down Royal Street and a take right on St. Louis Street will take you right to the cemetery. This cemetery isn't free and you must be accompanied by a tour guide to enter ($20). More info. If you're not looking for a full tour, there's plenty more to see.
ST. ROCH'S CAMPO SANTO
This is a very unique cemetery that's off-the-beaten-path. It contains a national shrine to St. Roch and is visited by those with walking disabilities who leave behind crutches and braces as a request or offering. Enjoy beautiful fresh flowers and artistic renditions of the stations of the cross along the walls. The cemetery is divided by a street, with #2 being more modern and visited by families of the dead. This is located just over a mile and a half from Andrew Jackson Hotel.
METAIRIE
If you're interested in manicured and elaborate marble tombs, Metairie is noted for its very expensive resting places. Italian-American singer Louis Prima is interred in Metairie, as well as the founder of Popeye's Louisiana Chicken, Al Copeland. This cemetery is in the Lakewood neighborhood, which is about 5 miles from the French Quarter. Directions here.
CYPRESS GROVE
Cypress Grove in Mid-City is a very serene, well-maintained cemetery and mausoleum, originally created for New Orleans firefighters and their families. Today it remains a functioning funeral home and place for burial. Notably interred is James H. Caldwell, theatrical impresario and entrepreneur who built the first English-speaking theatre in the city, as well as the man responsible for bringing gas lighting to New Orleans. This is located right near Metairie cemetery, not far from the New Orleans Museum of Art and City Park. Directions here.
LAFAYETTE CEMETERY NO. 1
In the heart of the Garden District, Lafayette was established as a non-segregated, non-denominational cemetery. It's the resting place of local jazz musicians and Judge Ferguson of the "separate but equal" Plessy v. Ferguson case. The cemetery is just a block long but includes 1,100 family tombs and 7,000 buried individuals. This is about 3 miles from Hotel St. Pierre. Directions here.